ACAMIS IN ACTION
Volume 4, Number 1 - October 2021
The ACAMIS Board of Directors
Steve Moody, President
Bill Elman, Vice President
Stephen Dare, Treasurer
Jeffry Stubbs, Secretary
Howard Stribbell, Board Member
Caroline Taylor, Board Member
Rachel Dent, Board Member
MESSAGE FROM EXECUTIVE DIRECTOR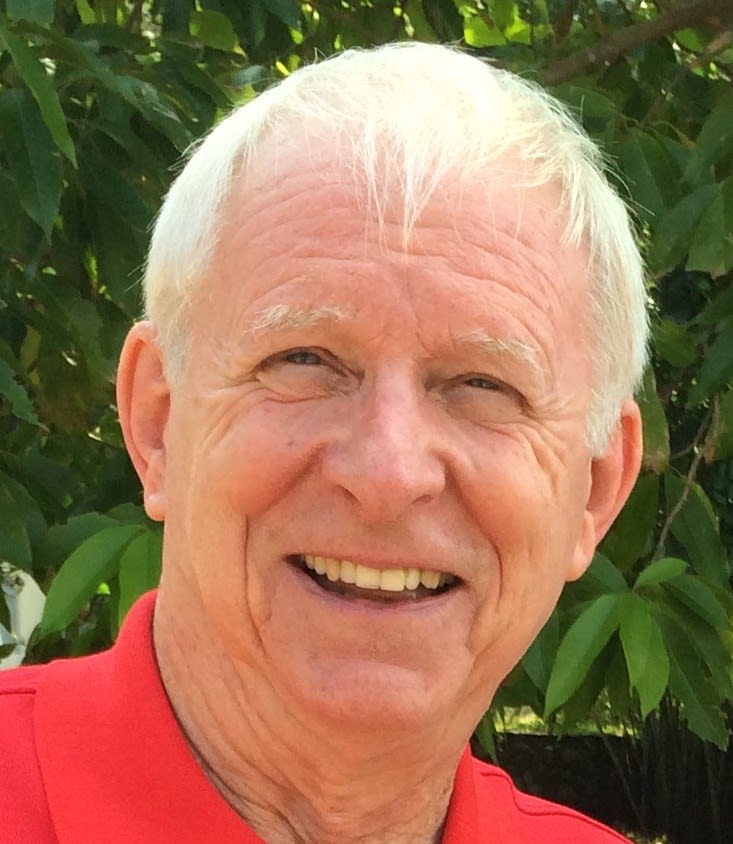 Here we are already at the autumn break. That first segment of the year went so fast. We still face some of the same uncomfortable challenges as last year and a few new ones on the horizon, but with experience these should be more manageable. Even parents will know better what to expect and successful meeting of challenges will rest largely with communications and encouragement. We are fortunate to have such skilled leaders and teams to work with.
For me, the time is approaching to move on. My final two-year agreement with the ACAMIS Board has begun and on July 31, 2023, I will sail into the proverbial sunset for other adventures. I vividly recall John McBryde, the first ACAMIS Treasurer, inviting me to join ACAMIS in 2002 and I have been either a member, Board Member or E.D. since then. This has been the most fulfilling professional experience of my 40 years in international education. ACAMIS President, Steve Moody, mentioned this transition at the AGM in April and the official announcement about the upcoming vacancy follows below. I am sharing with you now to keep you informed and provide as much notice and transition time as possible to attract a candidate with appropriate background.
I am looking forward to as much time with you as possible in this remaining two years and hope to be able to return to China by the Spring Leadership Conference!
Tom Ulmet
ACAMIS EXECUTIVE DIRECTOR VACANCY ANNOUNCEMENT
The ACAMIS Executive Director (E.D.) will be stepping down on July 31, 2023, after eight years in that role and five prior years as a Board Member. The Association of China and Mongolia International Schools is seeking highly qualified candidates for the Position of Executive Director with a starting date of August 1, 2023.
Executive Office Adjustments
After their many years of service to ACAMIS, we have conducted a complete audit of the size and scope of the work performed by our two very reliable and devoted Executive Office professionals, Executive Officer, Angie Lee and Executive Assistant, Gary Henderson. ACAMIS expansion of events, dramatic increase inuse of technology and virtual production of events resulted in a substantial change to their job descriptions. In recognition of these changes, their job titles have been updated to better reflect the nature of their work. Henceforth Angie Lee's title will be Director of Operations and Gary Henderson's will be Finance and Sponsor Manager. Kindly note that their email addresses have also changed, but their old email addresses will forward messages to the following emails for several months:
Angie Lee: operations@acamis.org
Gary Henderson: finance@acamis.org
ACAMIS Fee Payment - Credit Card Option helping Members/customers
It has been a year since Members/customers have been able to pay for any ACAMIS fee (e.g. re PD registration and annual membership) via Visa or Mastercard. Take up has been strong with 30% of member schools recently paying their membership fee by credit card. We are pleased to offer this easy payment method, which has also been popular for individual and group PD registrations.
We are delighted to welcome six new members to ACAMIS as if August 1. They are:
School:
Georgia School of Ningbo
QSI International School of Shenyang
Huasheng Yantai International School
International School of Wuxi
Wuhan Yangtze International School
Dulwich College Shanghai Puxi
Harrow International School Qianhai Shenzhen
Head:
Cavon Ahangarzadeh
Leah Jamele
Samuel Goh
Gideon Walker
Dr Christopher Rehm
David Ingram
David Shinkfield
This brings ACAMIS membership to 84 schools!
ACAMIS CONFERENCE PLANNING COMMITTEES
While not exactly new, many of you are new in the past three years and need to know that ACAMIS Conference content is created, guided, and programmed by committees of the best teachers in ACAMIS member schools who are nominated by their peers for three-year terms in order to gain experience and then pass it along. Their work is meant to bring the most relevant, innovative learning experience to you. Their volunteer efforts are guided by the Executive Office with purpose statements, budgets, hosting guidelines and both live and virtual meetings. Creating professional development for others is one of the greatest forms of professional development and many of our committee members are later tapped by their schools for further advancement. Committees consist of six members, two each from schools in north, central, south and lately also one from west. There are presently Plannning Committees for Technology, ECE, ELL, Chinese conferences and ACAMIS Robotics.
One of the great innovations created by the Technology Committee while brainstorming how to give access to members virtually is a brilliant idea of schools holding Technology PD Watch Parties. The idea is that a school can register to hold a virtual watch party of the conference content for a flat fee of $800 and invite as many of their staff to join in for the day while team building, discussing, sharing ideas and connecting as a staff. The Technology Committee has created a list of needs for the school to put in place to make it successful. Your own staff can create the party atmosphere with the school providing refreshments as desired. A Watch Party is particularly beneficial to new teachers who are trying to fit in and link with other teachers. See the Technology Conference description below for more information or visit our website for details. Six schools have already signed up to host their own Watch Party.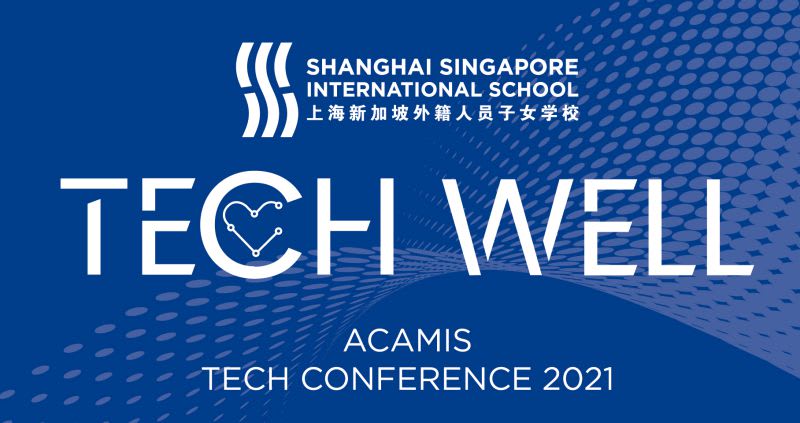 Shanghai Singapore International School
October 16-17, 2021
"Tech Well"
Attendance Options
1. Live Attendance for the full two days: Conditions in Shanghai are different and the Technology Conference is available to anyone, but those attending from outside Shanghai will need to show a negative COVID test result completed within 48 hours of the conference start. Note the list of COVID Requirements when you register.
2. Join us with Virtual Participation options (on 16 October 2021) - you can participate virtually as an individual or your school may wish to host a Watch Party, where your staff group views the range of sessions together at your campus. Watch Parties represent great value to learn, share and have fun together for a flat fee of US$800 regardless of staff numbers. Please see our website for full details.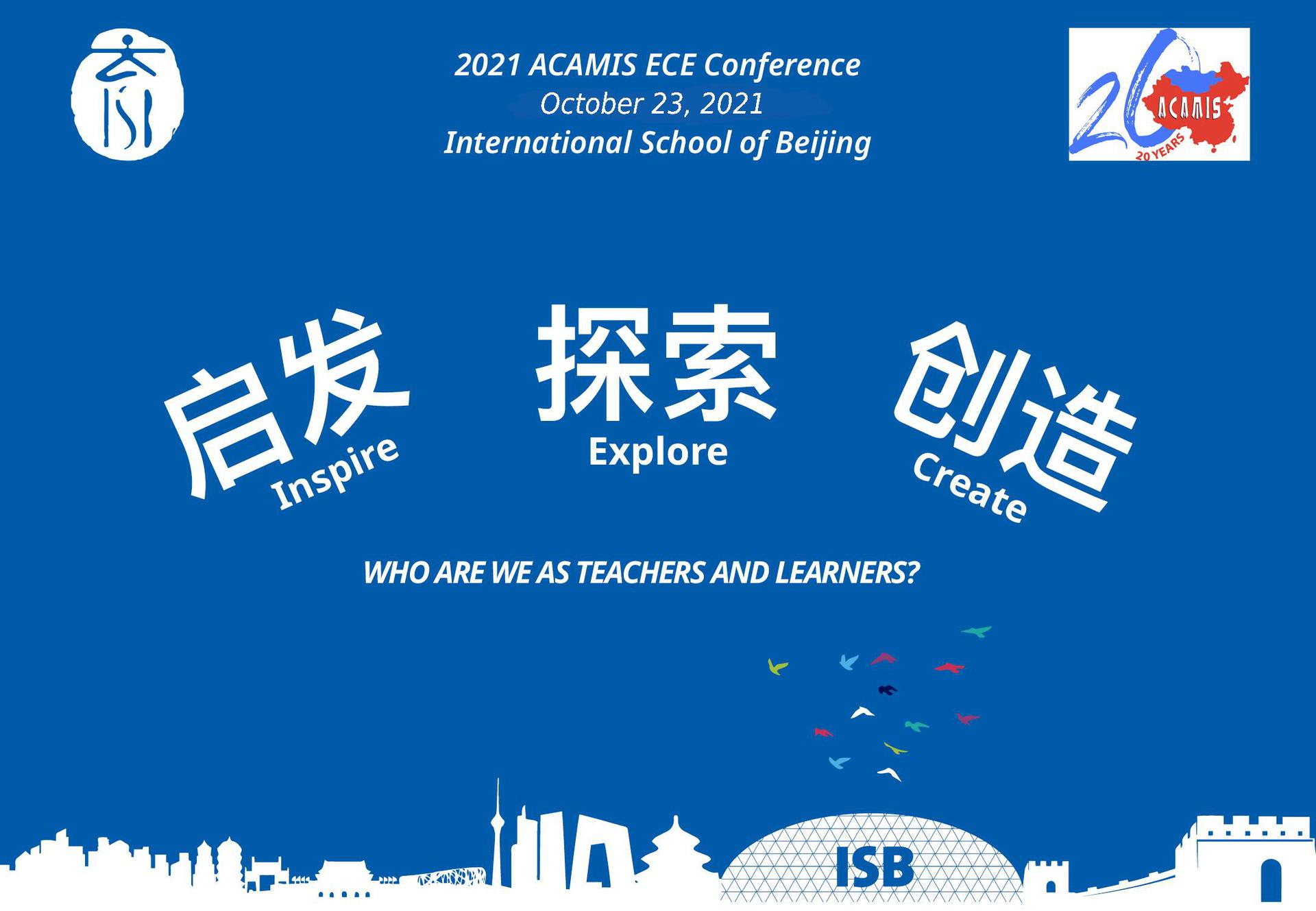 International School of Beijing
October 23, 2021
"Inspire, Explore, Create: Who are we as teachers and learners?"
Unfortunately, due to restrictions, the ECE Conference onsite at ISB is available only to those in Beijing. However please see our website for Virtual Participation options.
Upcoming ACAMIS PDAcademia Online PD Programs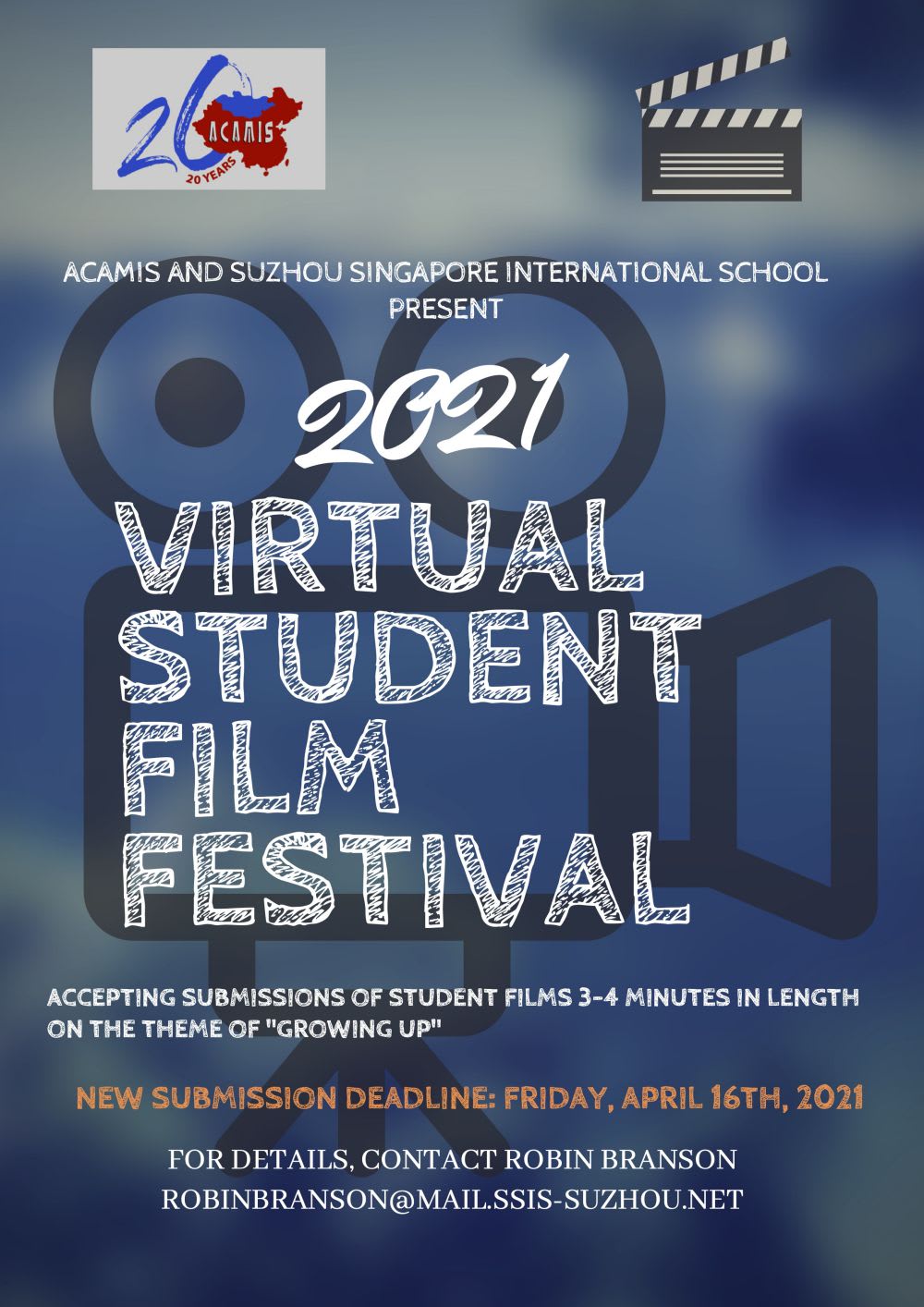 If your students are not yet involved in the ACAMIS Virtual Film Festival, they are truly missing out. The quality of submissions from the first Festival is so creative and representative of Academic and Cultural Enrichment (ACE). There is lots of lead time and students can create either individually or as a team. The learning and extension from the Virtual Film Festival is substantial. Any suggestions you have for making this event even better are welcomed. Contact Jennifer Waite at:
The ACAMIS Robotics Committee is working hard to organize and conduct regional competitions again this year. As part of the preparations, there will be a Robotics Strand as part of the ACAMIS Technology Conference at Shanghai Singapore International School on October 16-17. All member schools that offer ACAMIS Robotics participants are encouraged to take part, either live or virtually. This is especially important for new robotics coaches and for ACAMIS member schools that would like to start a robotics programme in their school or join in the ACAMIS Robotics Competitions. ACAMIS Robotics is limited to ACAMIS members only.
To get more information and/or Register, please click below:
Information about ACAMIS Sports will be distributed by division through our Sports Leaders, Danny Clarke and Darren Skov. While we are hopeful some division sports will open up later in the year, travel for students outside a city is not advised at this time.
As you know, we have been working closely with American, European and British Chambers of Commerce to share information both ways that is relevant to the international community in China and the economic development infrastructure that supports this community. In that spirit of sharing, the report that follows, while normally for British Chamber members only, was made available to us for sharing with our members. We are grateful to the British Chamber of Commerce in Beijing for sharing.
The comments in this report were a result of a roundtable discussion online by all four Chambers in China about the recent policy changes in K-12 education in China and are indicative of priority issues as expressed during the roundtable discussions. They are not an exhaustive assessment of the issues faced by educational institutions and companies in China, but they do shed light on where we may be heading in the coming years. Let it be noted that the report addresses private schools in general. Schools for Children of Foreign Nationals are also classified as private schools, but the changes in curriculum and textbooks do not apply to them. However, the changes are clarifying in many ways that help to define the direction of the education system in China.
Perspectives on University Admission
Our friends at ISC Research have shared some valuable information about university admissions, a topic of great concern, especially during COVID when many universities closed or conducted online studies. According to a recent survey conducted by ISC Research, over 40% of universities around the world anticipate an increase in international undergraduate entry for the 2021-2022 academic year. During the past year university attendance varied greatly from country to country. Thanks to ISC Research, we are able to share their results and have added a few perspectives of our own in this cache of articles. Read the Forbes article as it contrasts greatly to that of other countries. Be sure to share them with your university placement advisors.